Welcome to
Burley Villa School of Riding.
 Situated in the New Forest National Park. 
We offer :-
Forest Rides            Full and DIY Livery       Riding Breaks
Children's Riding Experiences and Pony Club
If you need more information or help please email or call us.
We'll be happy to help
CHRISTMAS HOLIDAY CHILDREN'S SPECIAL
SAT 16TH, WEDS 20th, THURS 21st & FRI 22nd DECEMBER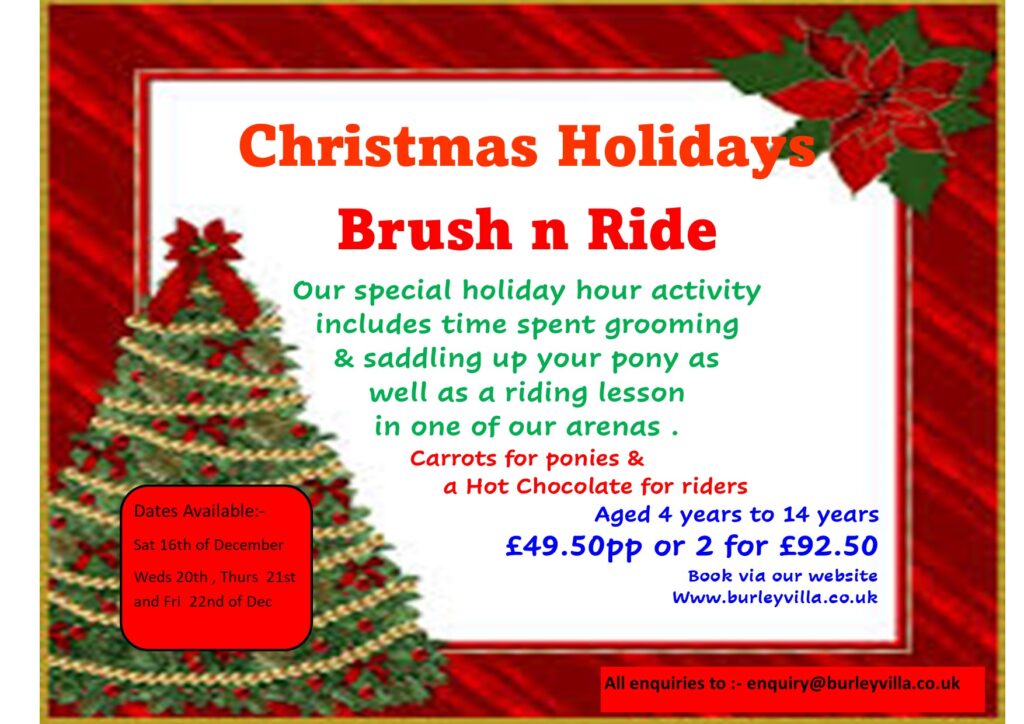 Burley Villa – Horse Riding Lessons
For Beginner and Novice riders we have 30 minute Private lessons in one of our Arena's available Wednesdays through to Sundays.This session is on a one to one basis with your Instructor although two friends or siblings can share to make the lesson semi-private.
The minimum age is 4 years and the maximum weight is 14 stone or 90 kilograms.
The cost is £40 per person or £35 each when two are sharing.
Children's Horse Riding Experiences
We offer fun riding activities for children who are looking for a one-off horse riding experience. Perhaps you are on holiday, have family visiting or just having a fun day out in the New Forest.     These experiences are available from April to October
Pony Trails
These are a  30 minute fun and informative lead rein walk out ride around the grounds of the stables. They ride along our Pony Trail, across our fields down the hill to the farm and through the woodlands, hopefully spotting lots of wildlife and our local deer herd on route. The Pony Trails are suitable for riders between 4 and 14 years old. The cost is £37.50 per person .
"Kidz Brush n Ride" –
A great way to get 'hands on' with our ponies on this one hour pony experience. Once you meet your pony  you will learn how to brush off and groom your horse so they are clean . Riders will then be shown how to put on the saddle and bridle and will help the instructor with this , before mounting up and heading off to the arena for a beginner lesson or a ride round our fields and woods on a 'Pony Trail'.  and generally depends on the weather and ground conditions. The minimum age is 4years up to 14 years.  The cost is £49 per person.