Children's Horse Riding Experiences
As well as our regular beginner children's lessons and pony club we also offer children's Pony Trails, Brush n Rides and other horse riding experiences.
Pony Trails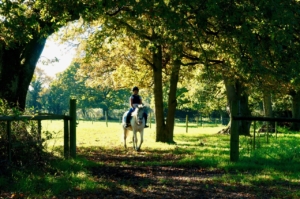 These are  30 min fun and informative lead rein walk out rides around the grounds of the stables. They ride along our Pony Trail, across our fields down the hill to the farm and through the woodlands. They are suitable for riders between 4 and 14 yrs old. Private Family groups can be arranged so Mum's and Dad's  can ride as well. Please email for details.
"Kidz Brush n Ride" –
A great way to get 'hands on' with our ponies on this one hour pony experience.  You'll learn how to brush off and groom your pony and how to put on his saddle and bridle before heading off to the arena for a beginner lesson or a ride round our fields and woods on a 'Pony Trail'. Minimum age is 4yrs.
Children's Mini Summer Camps –
Especially for our younger or less experienced riders, this is  a fun session with the ponies learning about horse care . Riders will be shown how to put on head collars and how to lead a pony. Then how to get ready to ride by grooming and saddling up. We will then have some fun on horseback before learning about the aftercare of our four legged friends.
Friday 12th August 1pm-3pm 
Sunday 21st August 2pm –4pm     
The Cost is £65 pp        Regulars Rate ***£57.50***       Refreshments are included. Minimum age 5 years and over.