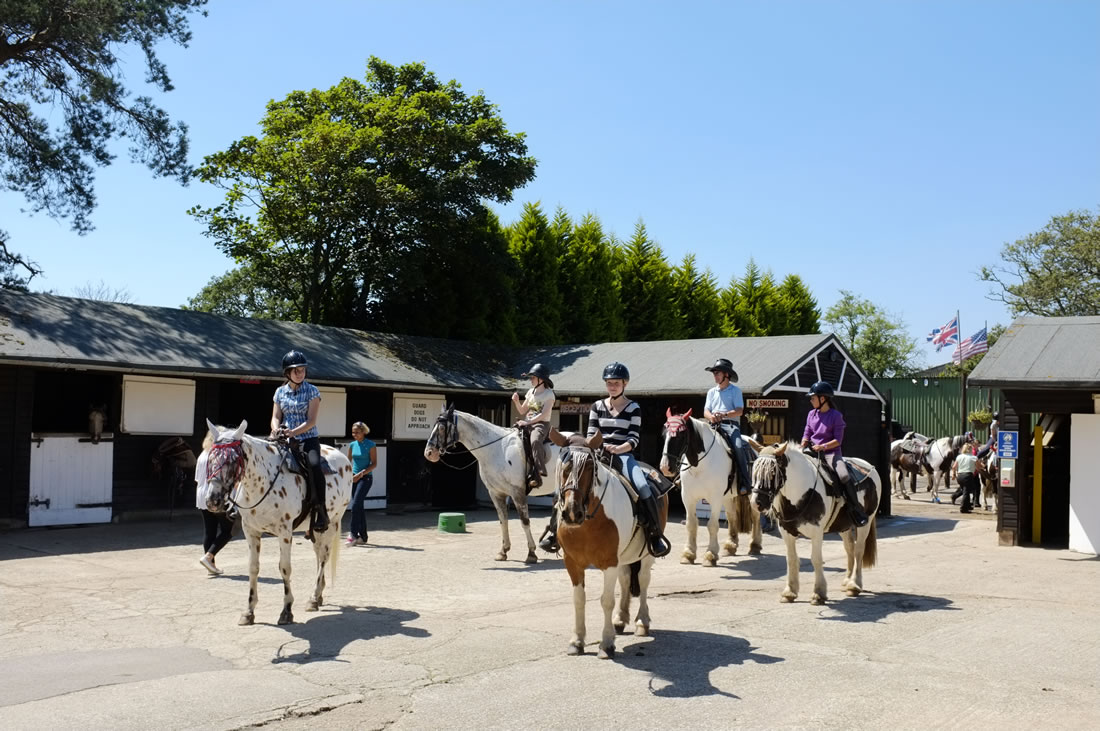 UNFORTUNATELY WE WILL NOT BE OFFERING WESTERN ADVENTURE DAYS FOR THE REST OF 2020
Join us on a Western Adventure Day to find out about Western riding. Help us get Coyote and his pals ready for a trail in the New Forest National Park.
Your working day starts at 9am with a coffee, a 'bacon sarny' and a chat with the Trail Leaders, who'll explain what you're going to get up to and answer any questions, before the first of the days tasks – grooming and getting to know your horse. They each have a different personality and, as you are going to be together for the day, it's a good idea to get to know your new friend, especially what he likes. It won't do to upset him! We'll all work together, showing you how to fit head-collars and then how to 'lead' and 'rack up' on the yard. Next, find out how to tack him up, before a quick break for another coffee. Through all the work with the horses our 'ranch hands' will be alongside you, helping, advising and answering any questions that arise. We hope everyone will work as a team, helping each other and enjoying learning about the 'Western Crew'.
After coffee, it's time to mosey on down to one of the arenas for a Western Riding Lesson, where we'll cover the basic of the Western Style. Western Riding is a great deal more relaxed than its European counterpart and some regular riders often find the change of style challenging. Beginners are welcome on all our Western Adventure Days as we use gentle paces, walk and jog only and they usually find Western Riding a lot easier to pick up. Lunchtime is for horses and riders alike, so after ensuring your mount has hay and water, it's time to sit down to a sizzling 'Chicken 'n' Steak' BBQ lunch and a chance to rest any aching muscles.
After lunch, set off to ride into the wild blue yonder on a Western Trail into the New Forest. The trail takes you across the plains where you will ride among the free roaming wild New Forest ponies, foals and cattle, and then into several of the Forest inclosures, where, with a bit of luck, you may catch a glimpse of the New Forest Deer or one of the other inhabitants of the woods.
Finally, the day winds up back at the ranch, where the horses need untacking, and a good rub down before more hay and feeds. That done, you get the chance to  help turn the horses back out into their fields for a good roll and a play before they settle down to munch the grass, or you can just settle down with plenty of hot coffee and tell tall tales of your day riding the range in the New Forest.
So, there's no excuse – 'get yer jeans' on and ride the range!
'Western Adventure Days ' take place on selected dates between late March and October. Some dates are listed below, but others may be available. Please call or e mail for specific dates, or for group enquiries. All Western Trails are mixed ability and are conducted at gentle paces, walk and jog, only. They are suitable for beginners, minimum age is 12 yrs and minimum height 5 ft / 1.55 m. Maximum weight is 15 st / 95 kg on all trails.
WESTERN ADVENTURE DAY AVAILABILITY
These are our currently available dates for 2020 . Please email enquiry@burleyvilla.co.uk to request availability for other dates or for group enquires :-