COME AND ENJOY ENGLISH SADDLE HORSE RIDES ON THE OPEN FOREST – RIDING LESSONS AND HACKS IN TRADITIONAL SADDLE
Burley Villa welcomes both riders and non-riders and offers hacking through the New Forest in traditional saddle, or English Horse Rides and Riding Lessons in the Indoor Arena or Menege.
Whether you are a visitor to the area and would like to ride across open Forest, or you want to learn to ride on a regular basis, Burley-Villa can help and advise you. The New Forest is one of the last areas in the country where you can ride freely across the wide open heath lands and through the picturesque enclosures, offering rides of scenic beauty which are enjoyed by all our riders throughout the year.
We're happy to help and advise so please email or call 01425 610278.
For more information about Forest Hacks or English Horse Rides and Lessons click on the buttons below: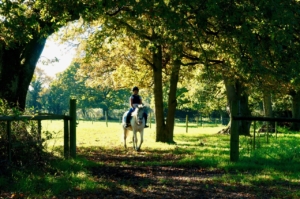 FOR THE KIDS
BEGINNER RIDING LESSON OR PONY TRAIL
A 30 minute fun and informative introduction to riding for children on one of our ponies as a lesson in the arena or
A 30 minute led ride around our fields and woods
Only £22 each or two for £42
"KIDZ BRUSH n RIDE" –
A great way to get 'hands on' with our ponies on this one hour pony experience.  You'll learn how to brush off and groom your pony and how to put on his saddle and bridle before heading off to the arena for a beginner lesson or a ride round our fields and woods on a 'Pony Trail'. Minimum age is 4yrs.
£35 each or £32.50 each for 2 or more riders